SDF1 (CXCL12) labelled 15N and 13C for NMR, LPS-Free
SDF-1α for Mass Spectrometry is the 8 kDa protein labelled with isotope 15N and 13C .
This protein is suitable for NMR studies.
This product corresponds to the human sequence and is produced in E.coli.
SDF-1α we provide is the natural protein, with no tags or additional amino acids.
It has the sequence:
["MKPVSLSYRCPCRFFESHVARANVKHLKILNTPNCALQIVARLKNNNRQVCIDPKLKWIQEYLEKALNK"]
Molecular Mass: Stromal Cell-Derived Factor 1α (SDF-1α, CXCL12) consists of 69 amino acid residues and has a calculated molecular mass of approximately 8 kDA
Purity: The purified protein is >95% homogeneous (electrophoresis and mass spectrometry). It contains no nucleic acids.
Endotoxin Level: The purified protein is free from LPS (Cambrex Limulus Amoebocyte Assay QCL-1000, <0.1 ng LPS per mg protein).
Buffer: Stromal Cell-Derived Factor 1α (SDF-1α, CXCL12) is lyophilized from DPBS without Ca and Mg.
Storage: 2-8°C when lyophilized. The protein once reconstituted with water can be stored frozen (-20°C). Avoid repeated freezing and thawing.
This product is intended for research only, and cannot be used on humans.
Publications where this product was used:
16th June 2023
HMGB1●CXCL12 : the first fuzzy chemokines heterocomplex reported so far
HMGBiotech Srl participated in a recent study in which, through an integrative structural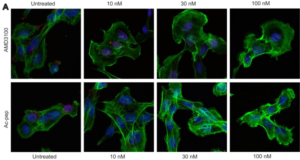 approach,
molecular details of HMGB1●CXCL12 heterocomplex formation were unveiled.
This dynamic complex is formed equimolarly, contrary to previous assumptions.
Structured and unstructured HMGB1 regions interact with the dimerization surface of CXCL12. This work elucidated how the acidic IDR is involved in HMGB1●CXCL12 complex formation.The findings suggest that interfering with the interactions in the HMGB1●CXCL12 complex could potentially inhibit its detrimental effects in inflammatory conditions. Read the full article about the study…
Mantonico et al. The acidic intrinsically disordered region of the inflammatory mediator HMGB1 mediates fuzzy interactions with chemokine CXCL12. bioRxiv 2023.